Press Release
Cooler Master introduces the toned-down version of the HAF 700 EVO, the HAF 700, an EATX chassis focused on delivering pure, undiluted performance. The HAF 700 takes inspiration from the flagship model with a more subdue and minimalistic visual design. Both cases share a few similar components, particularly with the base frame and some of the internal components giving you a very similar layout and set of offerings in terms of hardware support. The major difference between the HAF 700 EVO and HAF 700 is obviously the front panel design wherein the HAF 700 lacks the customizable front display and fancy RGB grille.

The Cooler Master HAF 700 goes back to the roots of the HAF Series which is pure and raw cooling performance out of the box having five pre-installed fans: two SickleFlow 200 ARGB PWM at the front, two SickleFlow 120 ARGB PWM, and one SickleFlow 120 ARGB PWM at the bottom. The Cooler Master HAF 700 can support up to 15 cooling fans with the help of a side fan bracket that can accommodate up to four 120mm or three 140mm fans. Read the full press release below.
Cooling-Centric, Performance-Focused
As an embodiment of the HAF DNA, the Cooler Master HAF 700 prioritizes airflow and performance through attention to detail in mechanical design, easily housing the most power-hungry components on the market. From SSI-EEB EATX motherboards to multiple radiator locations supporting up to 480mm in length, as well as any top-tier GPU you can get your hands on, HAF was made for building the system of your dreams. After having installed all core hardware components in the chassis, users will also find an abundance of clearance remaining for custom water loops, cable management, storage, or any other additional accessories they may fancy.
With the aim to push thermal efficiency up another notch, the Cooler Master HAF 700 features a full mesh front panel, fine-tuned to minimize resonance and reduce noise levels. The two 200mm and three 120mm Sickleflow ARGB PWM fans included in the case have been pre-installed in a layout tediously tested and configured for optimized airflow so users can enjoy top-notch cooling and maxed out performance potential out of the box.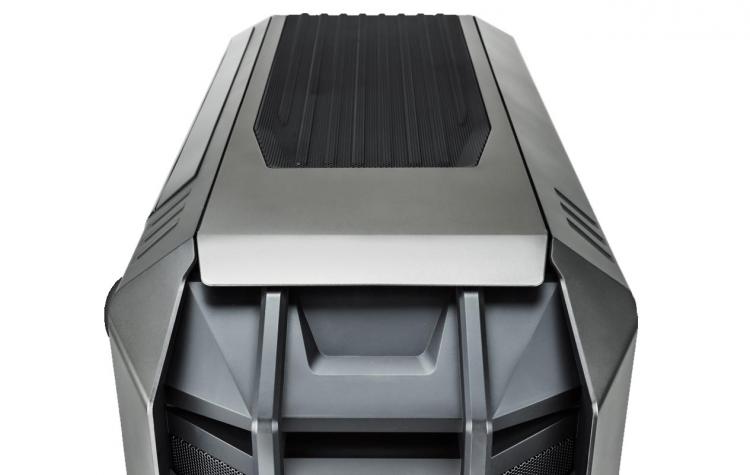 Intuitive Toolless Installation
To provide users easy access to their hardware as well as a sense of satisfaction during their creative journey, the Cooler Master HAF 700 incorporates an extensive level of toolless installation into its mechanical design. Multiple patent-pending toolless features such as multi-function locking mounts, removable drive cage, and GPU installation design streamlines the building process, making for a revolutionary, unique installation experience. All internal case components are designed to be removable and swappable, so users can tailor the layout to best suit their needs.
Boundless Aesthetic Freedom
While the Cooler Master HAF 700 EVO was made to stand out as the artistic centerpiece of a gaming room, the Cooler Master HAF 700 was designed to strike a balance between various tastes in visual appeal and functionality. Featuring a front panel with a significantly stealthier design, HAF 700 is decked out with ARGB Gen2 Sickleflow fans from top to bottom, so users can freely select and customize lighting effects according to their preferences. Backwards compatible with traditional ARGB Gen1 devices, ARGB Gen2 allows even greater levels of freedom and versatility when paired with MasterPlus+. Users gain full control of lighting effects and colors down to each LED, completely customizable so each system can be truly unique.
All Performance. No Fuss.
The Cooler Master HAF 700 is a case created for those who not only want but need extra power from their PCs. Thus, each detail has been crafted to ensure users the robust performance and unwavering dependability of any system installed. Now is the time for change. Whether you're a fan of the original HAF series, a professional creator, or a hardware enthusiast, HAF 700 is sure to make your life, career, and gaming experience that much more streamlined and enjoyable.
Availability
The
Cooler Master HAF 700
will be available for US$249.00 MSRP (prices may vary per region). The chassis is already listed on
Amazon UK
for £399.99, ETA info not released.