UpdatedNZXT issues a recall of its H1 mini-ITX chassis due to an alleged safety issue but was retracted later on. Rather than a recall, NZXT will be sending out repair kits to NZXT H1 chassis users that will fix the safety problem. Launched in February 2020, the NZXT H1 mini-ITX chassis comes bundled with an SFX-L 650W 80PLUS Gold power supply, a 140mm all-in-one liquid CPU cooler, and a PCIe riser card pre-installed for graphics card mounting. Exact details that raised the safety issue aren't known during the time of this writing whether it's the power supply or the liquid cooler or the combination of both components pre-installed in the NZXT H1 chassis. Nevertheless, NZXT seems to have quickly responded to the issue. NZXT released statement on the NZXT reddit page. Read the full statement below and return instructions below.
H1 Safety Issue
NZXT has identified a potential safety issue with H1 cases and we are working with the US Consumer Products Safety Commission along with the proper global authorities to notify our customers and provide them with a solution.
While we believe this issue only impacts a small percentage of cases, we are playing it safe and have paused sales of the H1 and are developing a simple-to-use repair kit that H1 owners can install themselves without having to ship their cases anywhere.
If you'd like more information about this matter, please contact our customer service team so they can assist you by emailing
[email protected]
*
Thank you and we apologize for the inconvenience!
*NZXT updated the statement to provide a dedicated email address for NZXT H1 related concerns
Initial Report
The safety issue was first raised at
Central Computers
saying that the NZXT H1, both black and white models, have the possibility to catch fire through a spark caused by one of the screws supposedly damaging one of the electrical cables within the chassis. As to which cable, NZXT nor Central Computers did not give further detail. As of this writing, Central Computers have removed their post regarding the issue. Hence, an NZXT representative gave a statement that was included in the removed article which you can read below.
Message from our NZXT rep:
We do need to halt sales due to the fact that a top screw has caused 1 case screw on the case to spark and possibly catch fire. We do have a fix for this, but we would need to halt sales for this product until we are able to get you guys the screw per units that you do have. If you have already purchased the unit and are experiencing the issue, please contact the NZXT customer service team (https://www.nzxt.com/customer-support) directly to get the screw and receive a tutorial on how to fix the issue. Our first step today was to put a full stop on all sell through of this model and quarantine any inventories in the channel. We will be reworking all units to quickly put them back into a saleable position. The modification is a very simple replacement of one single screw; but something that we need to do nonetheless.
NZXT's Actions and Further Information
Updated: November 29 - 5:00 AM (UK)
NZXT has published a
blog post
about the H1 case safety issue. NZXT claims the issue has currently affected fewer than ten NZXT H1 cases. For extra caution, NZXT paused sales of the chassis on NZXT and NZXT BLD and asked resellers to temporarily pause sales as well. On the other hand, NZXT provided more details of the problem as stated below.
What is the problem?
We have identified that the two screws that attach the PCIe Riser assembly to the chassis may cause an electrical short circuit in the printed circuit board (PCB). Repair kits are being prepared that include two new screws that address the issue along with instructions to replace them at home.

What can customers do?
While we have identified this issue as an extremely rare occurrence, the absolute safest approach is to power-down your H1 until a kit is sent out to you and the repair is made.

We will be taking customer information and providing early repair kits as soon as this upcoming week. These kits will allow users to make the repair at home by replacing both screws that attach the PCIe assembly to the case. Customers can reach out through our H1 dedicated contact channels included below for more information.

What else do customers need to know?
We are working closely with the US Consumer Products Safety Commission (CPSC) and the proper global authorities to ensure that we are doing everything we can to help NZXT customers. The CPSC's function is to help people use products safely and we have been adhering to their strongly recommended schedule for releasing information to our suppliers and to the public. We take this issue seriously and are working as quickly as we can to address it.
Repair Kit
Updated: November 29 - 5:00 AM (UK Time)
The issue to recall the product seems to have been
retracted
by NZXT immediately and chose a different approach. Instead of a recall, NZXT is preparing a
repair kit with instructions
to be sent out to NZXT H1 mini-ITX chassis users. The repair kit should successfully solve the safety issue of the chassis thus would also be the more economical solution to the problem without involving too much logistics on the customer's end.
Despite the safety concern, NZXT has no plans to discontinue the NZXT H1 case, says
IVANZXT
in NZXT's reddit post. However, several users also expressed their concerns on Reddit.
ImThatMOTM
replied on Reddit and said:
"not comfortable having my components in it anymore"
. Other users express their plans to return the product. Users can reach out to NZXT by sending an email to
[email protected]
Actual Stories
Updated: November 30 - 2:00 PM (UK Time)
Reddit user
riboflavin0514 replied
on NZXT's reddit post his experience of the NZXT H1 safety issue which the user describes as a "fire hazard". The user retells his experience saying,
"suddenly the monitor lost signal and I saw a fire ball and lots of smoke coming out from my h1."
, says Riboflavin0514.
"I was actually stepping away from the pc to grab something when the fire started but I managed to run and unplug the system within 5~6 seconds. My room was filled with smoke but I was very lucky that I didn't burn down my house.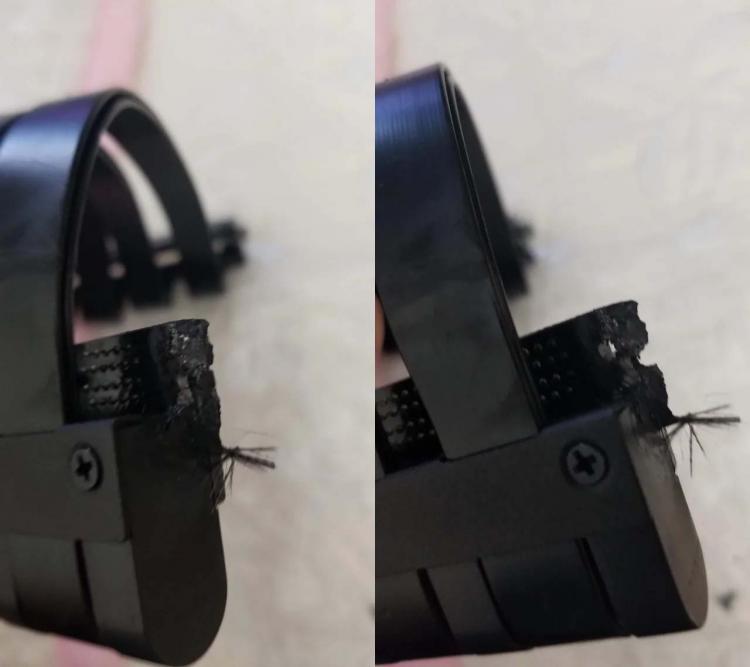 Riboflavin0514 uploaded images, as shown above, on reddit showing the damage of the fire to the GPU riser bracket pre-installed on his NZXT H1 mini-ITX chassis. Fortunately, none of the other components installed in the chassis were damaged, riboflavin0514 says. He explained that the backplate of the
ASUS Strix X570i
motherboard saved it from being burned. He then contacted NZXT and got a replacement GPU riser cable and continued using the chassis.
DIY Fix Ideas
Updated: November 30 - 2:00 PM (UK Time)
Some users of the NZXT H1 mini-ITX chassis are wanting to save themselves from the hassle of returning the chassis or waiting for the repair kit. Reddit user
woahvince
posted his own DIY fix which he hopes and assumes resolves the safety issue.
He simply replaced the screw that's holding the GPU riser cable, which is deemed the cause of the problem, with a zip tie. The zip tie secures the GPU riser bracket in place and is non-conductive which should be unable to cause a short. Other users suggest using an industrial-grade double-sided tape to secure the GPU riser cable to the H1 chassis, also a non-conductive material.
However, none of these DIY fix ideas have been approved by NZXT
.
NZXT's Recommended Temporary Fix
Updated: December 5: 7:00 AM (UK Time)
If you'd like to perform a temporary fix on your H1 case while you wait for your repair kit to arrive, we recommend the following procedure as outlined below. How to temporarily fix the H1 safety issue:
1- Power down the H1
2- Unplug the H1
3- Remove the graphics card
3- Remove the lower riser card retention screw from the H1, as indicated in the image below
NZXT did not mention to replace the screw with something else to secure the bracket in place.
About the NZXT H1
The NZXT H1 is a sleek, small, vertical chassis designed to fit elegantly in any battle station, without limiting its gaming potential. Capable of housing most full-sized GPUs, the NZXT H1 was designed to effectively cool every component to prevent thermal throttling. Cable management is made easy with pre-routed cables and a rear-facing I/O on the bottom of the case which allows for simple cable clean-up.
The included components in the NZXT H1 (SFX-L 650w PSU, 140mm AIO, and Gen 3 PCIe riser card) represent over a $250 USD value, decreasing the number of items that a customer needs to purchase separately. Additionally, each included component is pre-installed, which saves time and makes the NZXT H1 one of the simplest cases to build in.
Sources: NZXT Reddit, NZXT Blog