Introduction

Product on Review:
Creative Sound Blaster Roar Pro
Manufacturer:
Creative
Street Price:
UK: £169.99, US: $199.99
iRoar Mic
UK: £64.99, US: $79.99
A year ago, Creative graced us with the
Roar portable Bluetooth speaker
. It's sleek, compact design and fantastic audio quality only tells half the story. The long list of features and I/O options helped to make it a useful, functional tool more-so than just a speaker to pair your phone with.
The Roar Pro comes with familiar Roar features as it shares the same dimensions, weight and aesthetic to the original Roar. It has a similar driver ensemble (that being 1x 2.5" sub, 2x 1.5" tweeters and 2x passive side radiators) that is powered a bi-amplified design, giving a dedicated amplifer for the stereo and subwoofer channels. Looking at the changes, the circuitry has been improved by the Creative team to maximise the efficiency of that 6000mAh battery, giving a nice bump in its rated life span from 8 to 10hrs (T&Cs apply). You will also find that the Roar Pro also sports the latest aptX Low Latency wireless codec that is recommended for syncing video/audio.
The defining difference is the ability to pair it with the iRoar microphone, transforming the Roar Pro into a powerful yet compact, wireless PA system. The iRoar microphone is a lightweight, wireless microphone that features a 3.5mm line-in that can transmit high quality music playback along with your voice, as well as a mic-in port. This opens up possibilities beyond just a PA system, including use for karaoke and recording your singing session via the Roar's recording to microSD card function.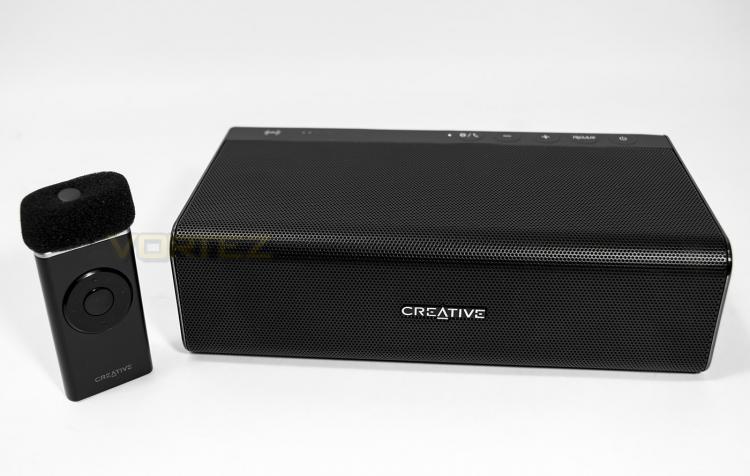 Overview by Creative
Riding the success of the critically acclaimed Sound Blaster Roar, the Sound Blaster Roar Pro raises the bar for portable Bluetooth speakers with its improved 5-driver system that is powered by two high-performance amplifiers. The Roar Pro is also made for professionals in their respective fields. Pair with Creative iRoar Mic (sold separately), and you'll get a wireless personal PA system (Public Address system) for presentations, conferences or even karaoke sessions!