Conclusion
Creative again impress us with their entry into the gaming peripheral market, they have created a product that combine the best aspects of gaming specific technologies and features without over-doing it in the aesthetic design. The LED lighting is bright and attractive and has an impressive array of advanced effects, and though this area could do with improving especially when compared with some others, there is enough to satisfy gamers of the PRO RGB LED party rave hype, or those that find RGB LED lighting as just another tool.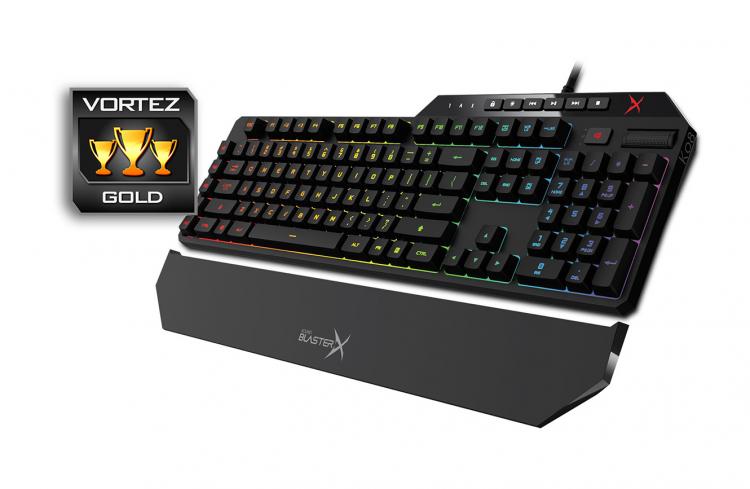 The real kicker with the Vanguard is in its switches, not only do they provide superbly bright LED lighting, nor that they are rated for 70million keystrokes, but they genuinely feel like a true switch for gamers. They are little rattle/wobble to them, and they are relatively quiet while in full use, lacking any click/clack sounds even experienced from other mechanical switch types. To put them in perspective, they are like a cross between Cherry MX Brown and Silver (maybe that will be gold?) with a stronger tactile feedback, a more direct down/up motion, and quieter operation.
The only real downside we can think of with the VK08 is that it is currently only available in US layout, and that Creative could have supplied some optional/textured keycaps. Otherwise this is a product worth checking out, as it is a worthy alternative to the various leading mechanical keyboards out there. In once sense, if you don't mind a slightly less developed lighting repertoire, the Vanguard K08 is likely to be superior to the competitors on the back of those custom Omron 'PRES' switches.
(Right now if you live in the USA, Creative have a promo sale on the Vanguard K08 for just $139!)
Creative bring another brilliant product to the market with the Vanguard K08, cementing the Sound BlasterX brand as one to look out for in regards to gaming peripherals.
Pros.
+ Sleek appearance
+ Good quality construction
+ Bright, customisable RGB LED lighting
+ Custom mechanical switches (high speed, silent/tactile)
+ Included wrist rest
+ USB pass-through
+ Dedicated macro keys
+ Dedicated media keys + volume roller

Cons.
- Didn't use a USB 3.0/3.1 pass-through
- Only available in US layout (right now)
Click here
for an explanation of our awards at Vortez.net.