Conclusion
MSI are aware that there are certain enthusiasts/gamers who despise the glitz and flamboyance of RGB lighting and lust after an all-black design and that is just what UNIFY delivers. This has to be one of the sleekest Intel Z490 motherboards we've had in for review and we're certain it will be popular due to its stealthy aesthetics.
Across the variety of tests we performed, UNIFY provided some admirable results. The cooling design for both the VRM and chipset configurations has been well designed, with figures remaining consistently low. Not all motherboards bearing the Intel Z490 chipset will offer up USB 3.2 Gen2x2, so its pleasing to see that MSI has equipped this board to make use of such a feature. For those who count themselves as a content creator, this type of feature will be especially useful.
For the moment, just like other Intel Z490 motherboards, PCI Express 4.0 isn't possible under Comet Lake CPUs but that hasn't stopped MSI from implementing a PCIe Gen4 configuration which is able to utilise this technology once it arrives via future CPU updates.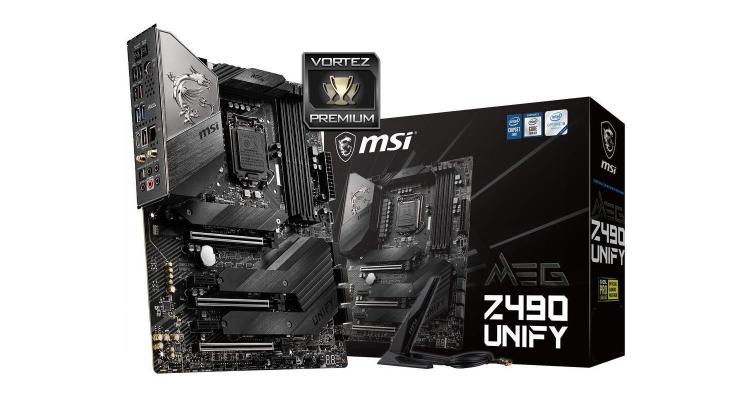 We managed to nudge all 10-cores on our 10900K up to 5.3GHz with UNIFY without any difficulty. Some BIOS layouts can be complex and tricky to navigate but its great that MSI keep things simple with their design.
Pricing for UNIFY sees it retail for:
GBP £249
| USD $299 | AUD $599. For the money, you're getting a lot of features, some of which aren't present on rival options around the same pricepoint. We're also reminded that MSI offer a 3-year warranty, which is definitely an added bonus.
Lusting after an all-black, no nonsense Intel Z490 motherboard? Be sure to check this one out, it's packed with features and performs exceeding well.
Pros
+ Super-sleek all-black design
+ Offers great performance
+ Comes with USB 3.2 Gen2x2
+ Good selection of fan headers
+ Overclocks well
+ Has future support for PCIe 4.0
+ Uses strengthened PCI Express slots
+ Offers triple M.2 slots
+ VRM/chipset cooling is very good

Cons
- No Thunderbolt support
- Back panel space taken up with USB 2.0 ports
Click here
for an explanation of our awards at Vortez.net.
Stay connected with Vortez social media pages:
Facebook
Twitter
Instagram