Introduction
Product on Review:
Sennheiser GSP 350
Manufacturer: Sennheiser
Street Price: UK: £129.99, US: $139.99
Sennheiser are top of their game and are a well renowned brand in regards to audio products. Since our last look at the awesome GAME ZERO headset, they have recently released a trio of headsets for gamers. As the 'mid-range' offerings, the GSP 300/350 are more similar in design, and are priced comparably to the likes of the Creative Sound BlasterX H5/H7, along with a respective feature set. While the PC 373D appears to be a GAME ONE headset modified to used the same Dolby 'Surround Dongle', enabling USB connectivity and 7.1 virtual surround.
The GSP 350 which are are featuring today, has a robust construction and feaures intuitive controls such as an easily accessible volume dial, and an auto-mute microphone. Sennheiser would have undoubtedly injected their know-how into providing high quality drivers and microphone technology. Other than the blue/red colouring, the significant difference between the GSP 300/350 headsets appears to be down to the supplied cables. The 300 acts as the multi platform analogue headset, while the 350 ships with the same USB 'Surround Dongle' as featured with the PC 373D headset, thus serving as the PC virtual 7.1 surround headset.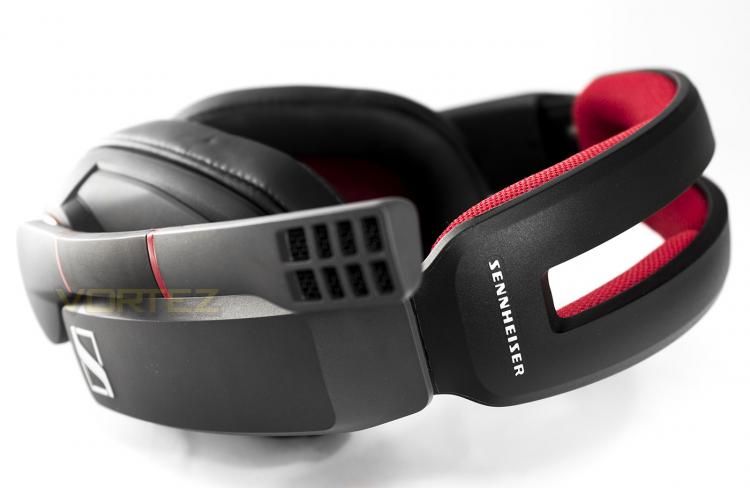 Overview by Sennheiser
The greatest games already take you on an adventure into new worlds of excitement, but when you're ready to go even further into the game, you'll want the Sennheiser GSP 350. Delivering an ultra-immersive experience for PC gamers thanks to Sennheiser's high-end acoustic technology and incredible 7.1 Dolby Surround Sound.