Conclusion
Having mostly reviewed NAS products from another vendor it's a breath of fresh air spending time with another brand. Thecus is under 10 years old and yet they have demonstrated they are force to be reckoned with.
On the hardware side, the N2560 is presented in a professional enclosure which looks and feels great. Inside, the list of components are:
During our testing and general usage we found N2560 a very capable unit, offering solid performance regardless of what is thrown at it. Due to ThecusOS 6 being all-encompassing it's no surprise there are plenty of features and uses for such a unit. Getting the NAS up and running is really easy too, thanks to the online installation which takes less than 5 minutes to complete – along with the installation process, RAID is configured in the early stages and can be manually set up or automatically.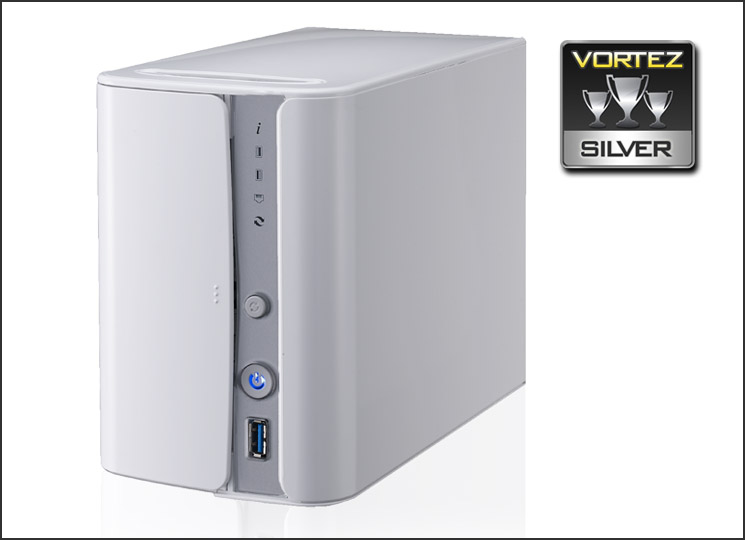 Although our experience with N2560 is largely positive, we did see some room for improvement. Lack of 2.5" SSD/HDD support is one such feature which is lacking within the unit, we'd like to see compatibility for more than just 3.5" options. Comparing the software to other NAS OS's out there, Thecus's attempt appears to lag behind the competition. Areas within the OS felt unfinished and the general look and feel can be described as "rough around the edges".
Coming in at a cost of £250 we think the N2560 is actually quite a good value for money offering. Other NAS units which feature the same hardware specification are generally priced much higher and we think N2560 would be a worthwhile investment for anyone wanting to implement a central storage location within their home network.
Operating as a central file system, N2560 is an affordable home network solution which is laden with reliable hardware, brilliant performance and an extensive feature-set to boot.
Pros
+ Pleasing to the eye
+ Great hardware specification
+ Solid performance
+ Flexible feature-set
+ HDMI port
+ Easy to set up

Cons
- Lack of 2.5" storage support
- Not very energy efficient
- Operating system requires work
Click here
for an explanation of our awards at Vortez.net.