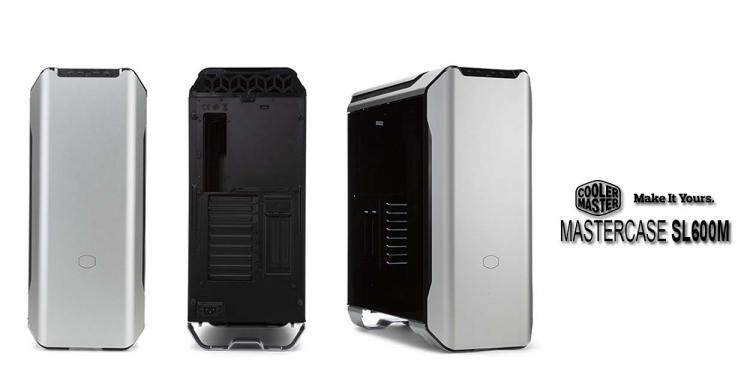 Cooler Master presents the MasterCase SL600M chassis featuring premium aluminium panelling with a lavish integration of noise reduction features to create a high-performance silent setup. The MasterCase SL600M chassis features a vertical chimney effect layout that delivers efficient thermal cooling for the components inside. The MasterCase SL600M also features a rotatable PCIe bracket window that offers both vertical and horizontal graphics card orientations. It also features an advanced I/O panel with backlighting along with an adjustable top ventilation.
The MasterCase SL600M's top and front panels use anodized aluminium panels with a smooth sandblasted finish. It uses a vertical chimney effect layout with its dual 200mm fans mounted at the bottom that pushes hot air to exit on top of the chassis offering a natural and efficient thermal dissipation. The MasterCase SL600M uses advanced noise reduction technology that suppresses noise from coming out of the chassis while keeping thermal performance efficient. The chassis comes with fan speed slider on the advanced front I/O panel to control the volume of air and cooling inside.
The
Cooler Master
MasterCase SL600M features flexible mounting options and modularity. Its rotatable PCIe bracket windows support both vertical and horizontal graphics card orientations. Vertical graphics card orientation would require a separate PCIe riser. The SL600M features a versatile storage bracket which doesn't only support 2.5-inch and 3.5-inch drives, it can also support water pumps and reservoirs to create a complete custom liquid cooling system. The SL600M comes with an advanced front I/O panel with proximity sensors that turn on backlighting for easy access in dark environments. The advanced front I/O panel includes a high-speed USB 3.1 Gen2 Type-C port aside from the standard set of ports and the PWM fan speed slider. Lastly, the MasterCase SL600M comes with an adjustable top aluminium to control airflow and cooling.
Pricing and Availability
The Cooler Master MasterCase SL600M is now available in the North American region via
Newegg
with an MSRP of $199.99, shipping starts on the 15th of November 2018. Availability to other regions to follow. Learn more about the
Cooler Master MasterCase SL600M here
.